Meet the Doctors at Caspers Chiropractic Center
Get to Know Us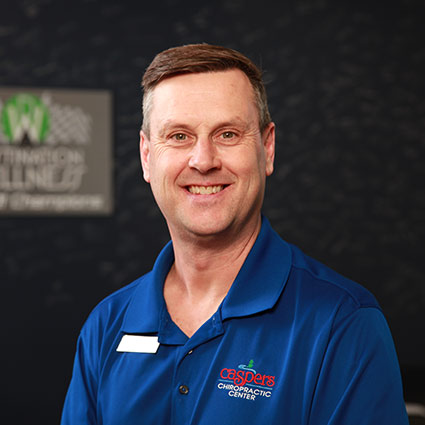 Dr. Guy Caspers
Shakopee Chiropractor Dr. Guy Caspers is a native of Central Minnesota. After starting a practice in Northwest Iowa and practicing several years, he sold this practice and moved back closer to home. He wanted to be closer to family and enjoy rural Minnesota life around lakes and water. Dr. Guy loves chiropractic care and how it impacts people's lives holistically. It makes it easier for him to overcome any daily challenges, knowing what he does makes a difference. He's passionate about helping people heal and get better the right way—naturally.
Dr. Guy saw a chiropractor to get over his neck pain while in high school. He received the relief he was looking for, but was often sick too, and as a result experienced fever blisters. The doctor told him that continuing with his adjustments to align his spine and keep it that way would reduce the incidence of the blisters.His doctor proved to be right, which helped him realize that chiropractic was about more than pain relief; it impacts the whole body. At that moment, Dr. Guy felt that if he could do for someone else what was done for him, it would be amazing. That's when he knew this is what he was going to do for the rest of his life. To help people not only heal from pain, but also help their body recover from many other health problems they never knew they could heal from.
Dr. Guy attended Northwestern Health Sciences University and has been practicing since 1994. He is also a Certified Chiropractic Sports Physician® (CCSP®), which helps him care for sports injuries, and also those away from the spine.
The biggest change in the way Dr. Guy sees chiropractic care is the move from just short-term pain relief to something that fundamentally changes people's lives today and for the future. It's so much more than just pain relief; we like to say "Hey, it's your future, be there healthy."
Outside the practice, Dr. Guy loves spending time with his family and friends. His big three hobbies are golf, anything on the water, and aviation and flying.
Dr. Guy believes chiropractic care can help everyone. Discover what it can do for you. Check out our $45 new patient special and book a visit today!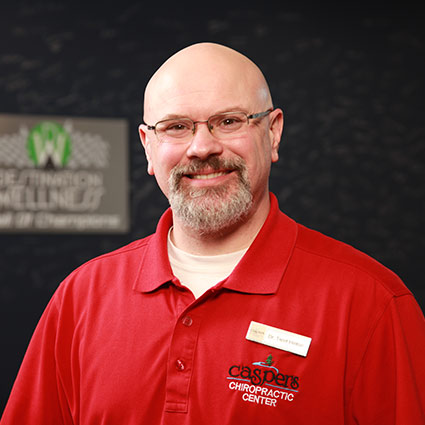 Dr. Trent Hinton
Dr. Hinton loves that chiropractic offers a personalized approach to helping people utilize their self-capacity to heal and adapt. He wants his patients to know he's a warm, caring person, and he will do whatever it takes to find out how to best help them.
Dr. Hinton received many wellness adjustments over the years for sports injuries and other issues. While in college, he visited home and accompanied his father to a scheduled visit. Afterwards, his dad suggested he consider a chiropractic career.
Dr. Hinton thought about how much chiropractic care helped him through his many aches and injuries, and knew it was the perfect fit.
Dr. Hinton enrolled in the pre-med program at the University of South Dakota, graduating with a degree in biology. He also researched the biological response of stress on our nervous system, and its adaptations and responses.
After completing his undergraduate studies, he enrolled in Northwestern Health Sciences University, earning his Doctor of Chiropractic degree. He received a National Science Foundation EPSCoR grant in Neuroscience research, and has a certificate in Biomechanics of Low Speed Impacts and Injury Mechanisms.
After practicing for some time, Dr. Hinton came to the realization there is no one-size-fits-all approach to health care. It really hits you when you're treating your barrel chested father, delicate newborn child, and her fragile great-grandmother with chiropractic care at the same time.
All have the same goal of optimal health, but need him to use different styles and techniques to accomplish this. His knowledge base is always growing and changing to adapt to the needs of this spectrum of different types of individuals.
Dr. Hinton enjoys the outdoors and nature. You can find him standing up and going outside to be surrounded by nature's whispers. He likes anything that involves the outdoors—hiking, mountain biking, archery, and going on adventures with his daughter.
---
Meet The Doctors at Caspers Chiropractic Center | (952) 977-9933