New Patients at Caspers Chiropractic Center
When you come into
our practice
, we want you to feel welcome and comfortable in our space. Most importantly, that you're in the right place to heal.
If possible, complete our paperwork prior to your first visit; if not, please come in 15 minutes early. Please bring your ID and insurance information, and dress comfortably. Our onboarding is a two-visit process; allow one hour for each.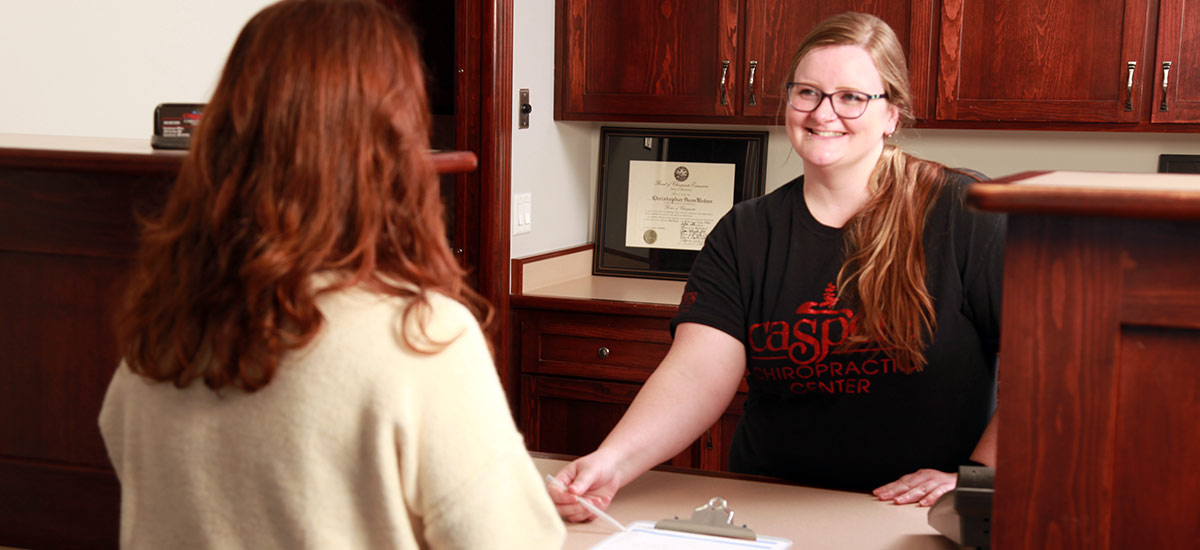 The First Visit
On your first visit to our practice, our friendly staff will greet you and make sure your needs are met. If your paperwork is incomplete, they'll assist you to finish before bringing you back to the exam room to your doctor.
He'll ask about the issue that brought you in today. He may have additional questions about lifestyle and other areas to get a full picture of what might be contributing to the problem. Next is a comprehensive physical exam, including orthopedic and neurological tests. MyoVision® sEMG scanning may be done, and if an X-ray is indicated, you'll have it done at this time. Your next visit will then be scheduled.
When You Return
The second visit is the report of findings. Your doctor reviews all the test results and other documentation to determine the root cause of the problem. An action plan is created and discussed thoroughly with you to ensure you understand exactly how we plan to proceed. If you agree to move forward, you'll receive your first adjustment today.
Financial Responsibility
Our team members will discuss finances at the end of the report of findings. We'll discuss any available options, how your insurance works, and what your responsibility is. Our fees are comparable for the area, and we accept HSA and FSA plans, and most credit cards.
We work with most insurance providers, Medicare, Medicaid, the VA, and CareCredit®. A "Time of Service" cash discount and in-office financing is offered. Ask about our new patient special!
Get Results
Our doctors understand what you're going through, and we're committed to helping you find the relief you need and deserve. Book a visit today.
CONTACT US
---
New Patients at Caspers Chiropractic Center | (952) 977-9933